Login
Log in if you have an account
Dont have an account? Register
Getting Krafty
04 Jan 2023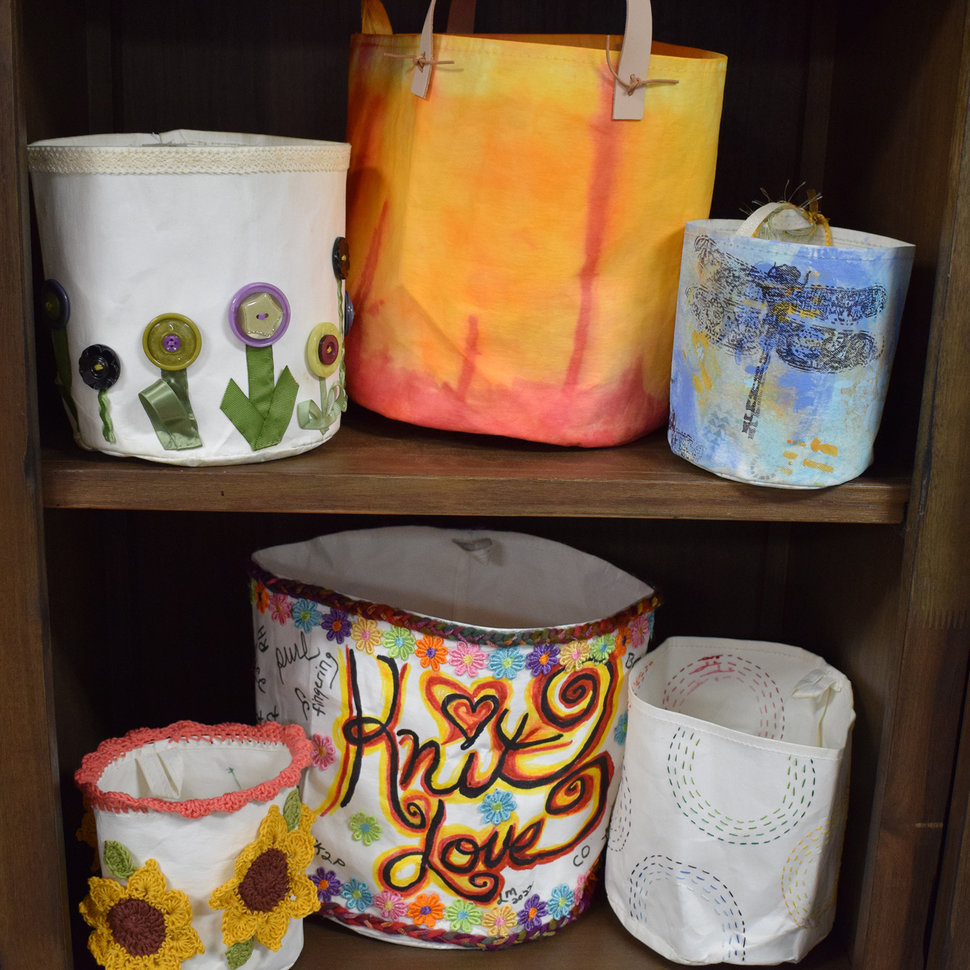 Get creative with Cocoknits Kraft Bins! Cocoknits Kraft Bins are available in three nesting sizes, can be used alone or as an insert into a larger tote. Attach Cocoknits leather handles and it transforms to a handy tote. There are so many possibilities!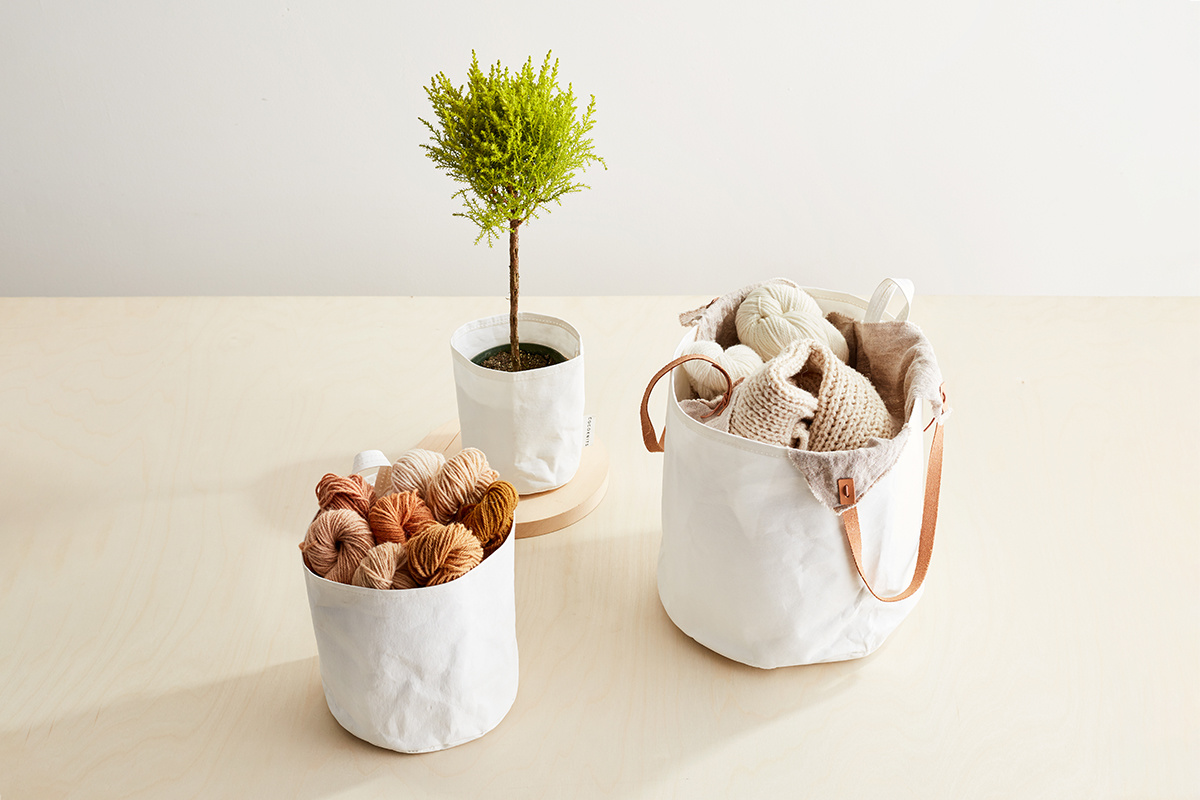 What is really cool about these bins is they are made from machine washable kraft paper fabric, and are a blank canvas for creativity. We put our team's creativity to work, asking each of them to transform one of these bins into a little work of art.
Lori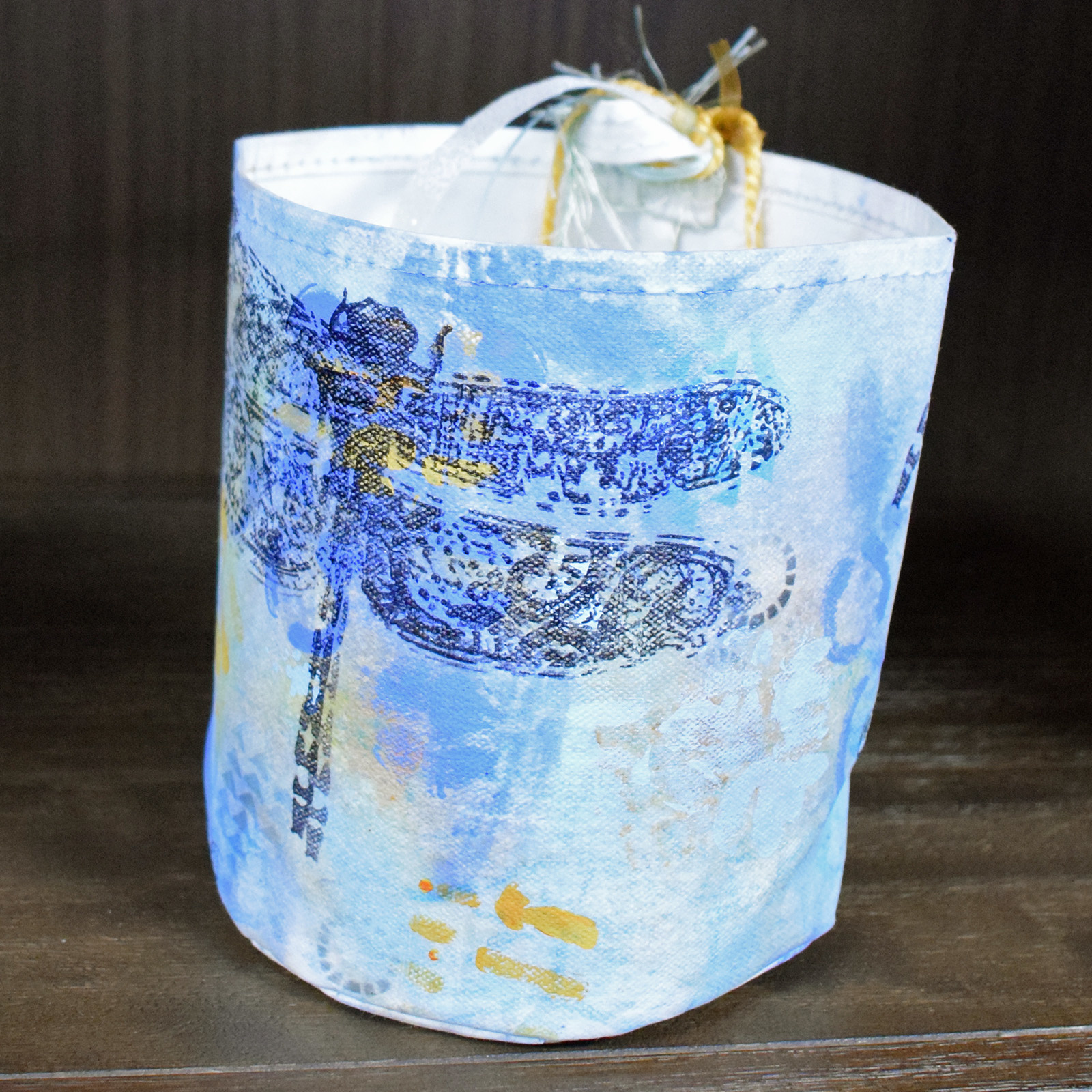 Lori wet the bin and kept it damp as she worked. Using paint and stencils for the background, she created this cool dragonfly stamp with black ink and a clear embossing powder. The dragonfly got a bit cati wampus - she wanted it to be positioned a bit lower and tilted more, but it can be a bit awkward to stamp on a curved soft surface. We think it turned out great!
Jeannie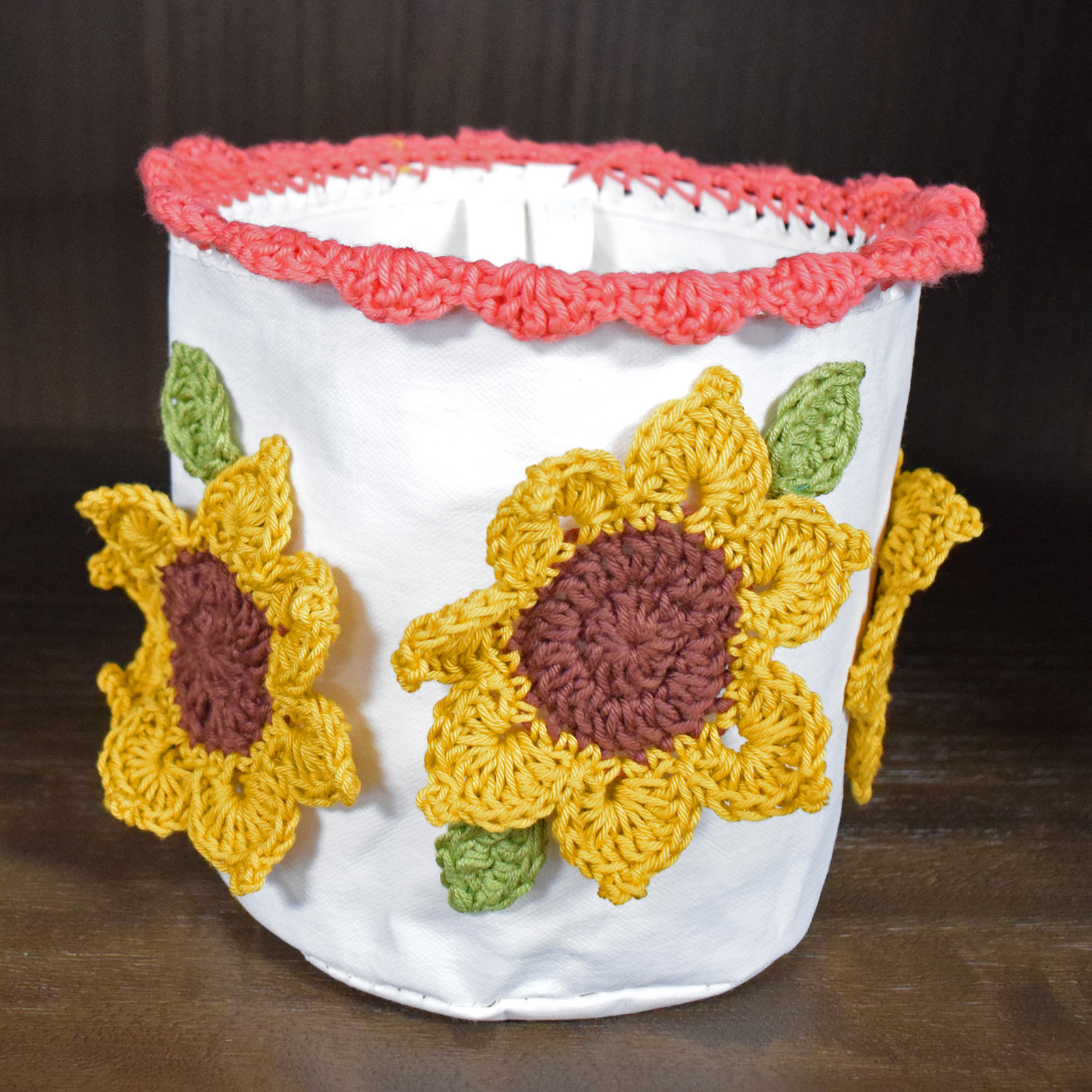 Jeannie pulled out her crochet hook, of course, and attached colorful sunflowers. She made small holes around the upper rim and attached a crochet edging. Super fun!
Jennifer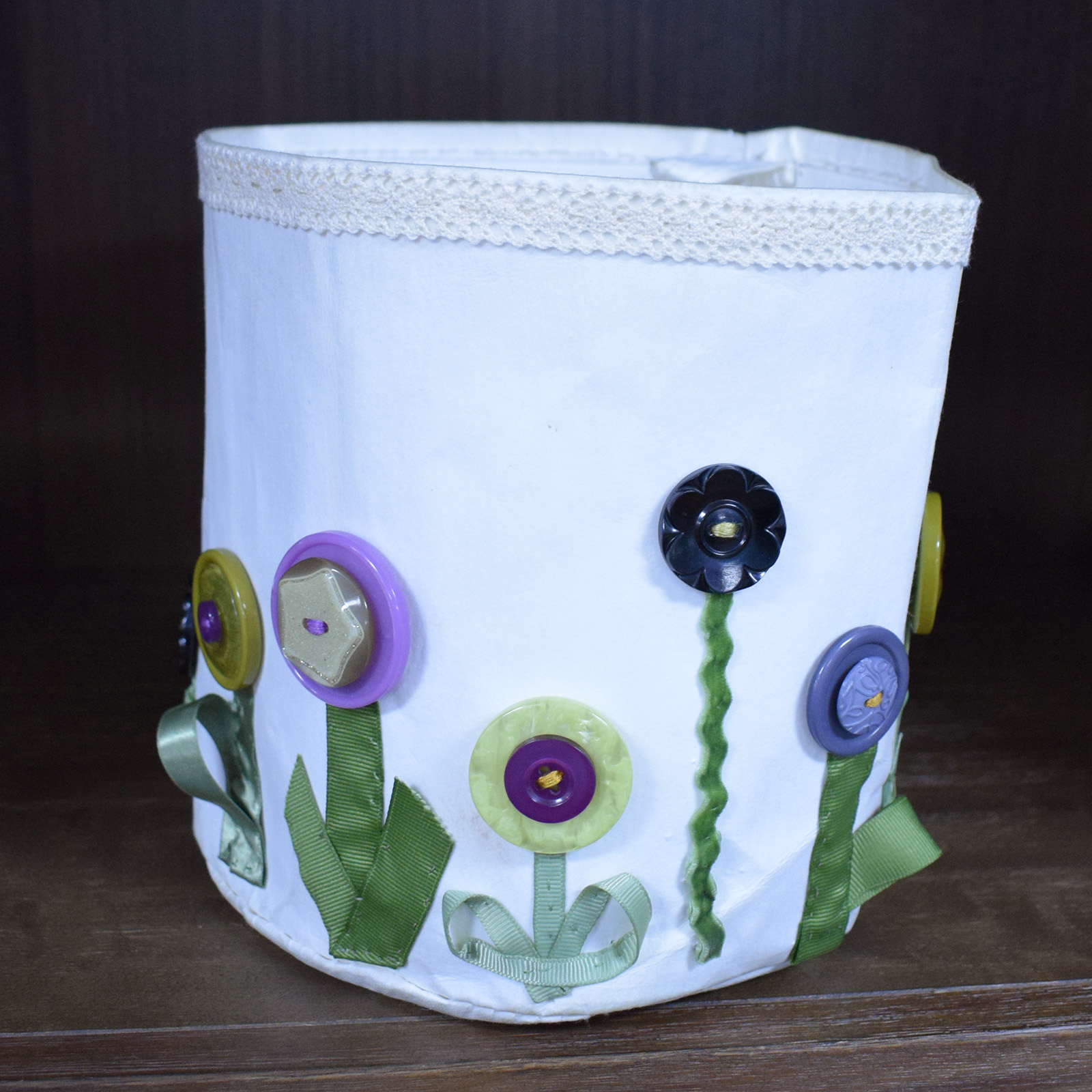 Jennifer created this cute appliqué floral design using ribbons and buttons. There's a lovely lacy ribbon around the upper edge. Everything was hand sewn, and the kraft paper made this a bit of a struggle but the results were totally worth it!
Kary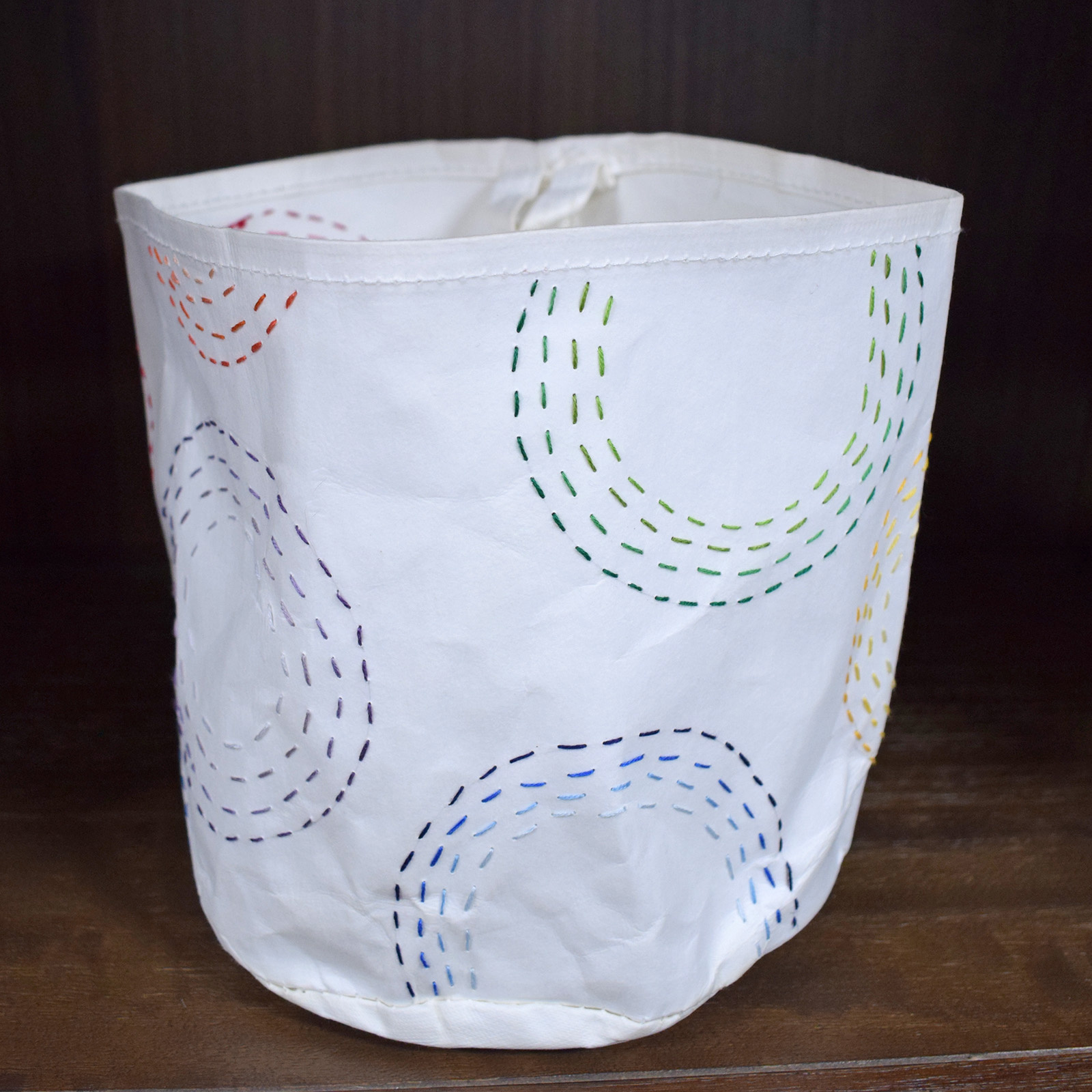 Kary showed off her embroidery skills, creating these concentric gradient circles. So cool!
Laura
Laura covered her bin with knitting graffiti using fabric markers. The upper and lower edge are surrounded by a colorful yarn braid and a fun daisy trim. There are even glittered lips and more colorful daisies scattered about.
Keely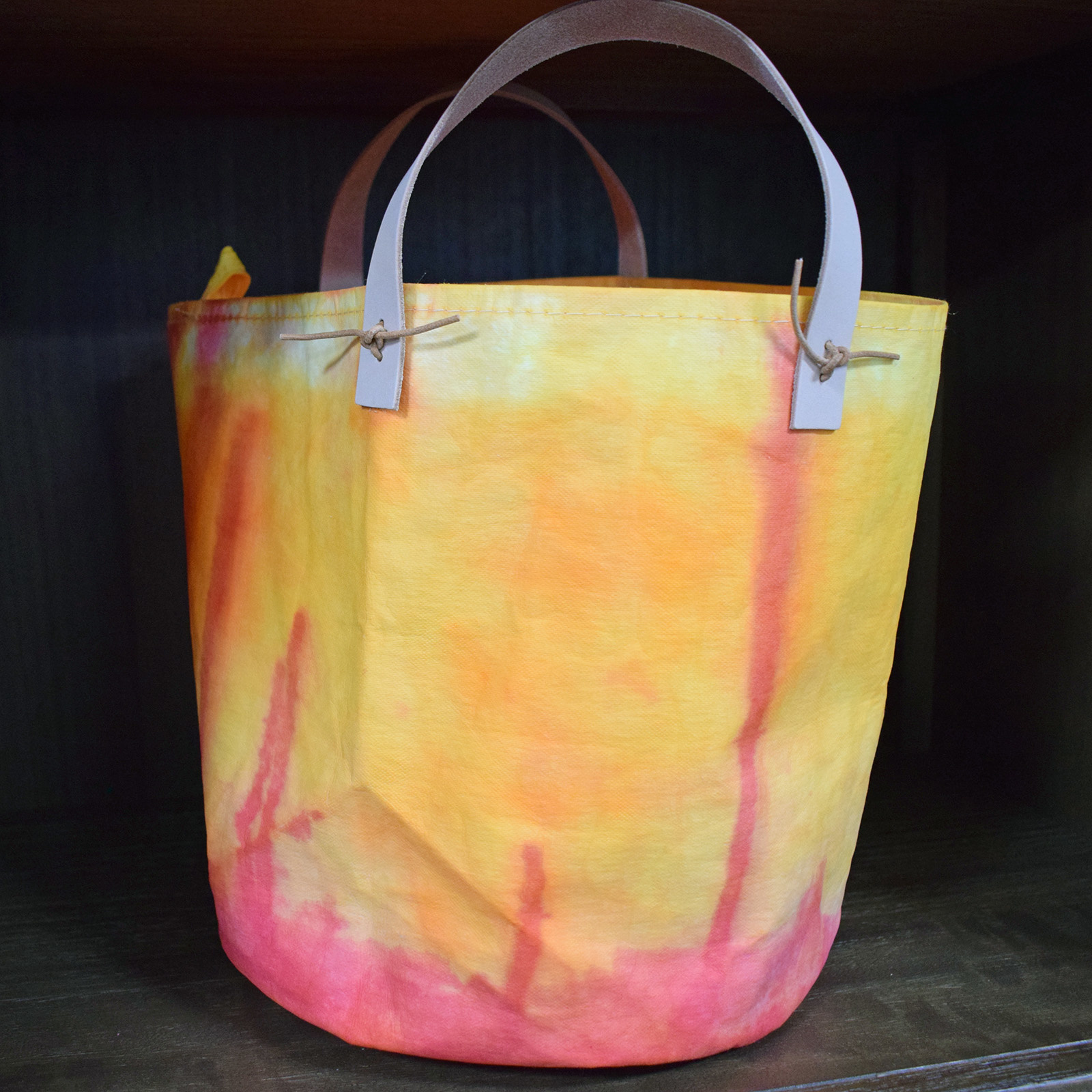 Keely decided to get her hands dirty and dye. Jacquard Procion MX dyes are best suited for the paper fabric medium. To prep the bin was first soaked with a mix of soda ash and water. The upper edge was dipped in a big bowlful of lemon yellow, gradually squishing it down into the bowl. The bottom was then heavily doused the bottom with carmine red dye, letting it drip down the sides. After completely submerging into the bowl of yellow dye, the bin was rinsed. Deciding it needed a bit of orange, Keely sprinkled straight bright orange dye around the sides, and a little on the bottom. After giving it a super good rinse, they dye was set with a Jiffy steamer. Cocoknits leather handles were then attached to create a tote.
Have we inspired you to get crafty with a Cocoknits Kraft Bin? The key is to get it very wet to soften the paper fabric before attempting any sort of embellishment. Get crafty with SWAK!