Login
Log in if you have an account
Dont have an account? Register
Tools of the Craft
17 Dec 2021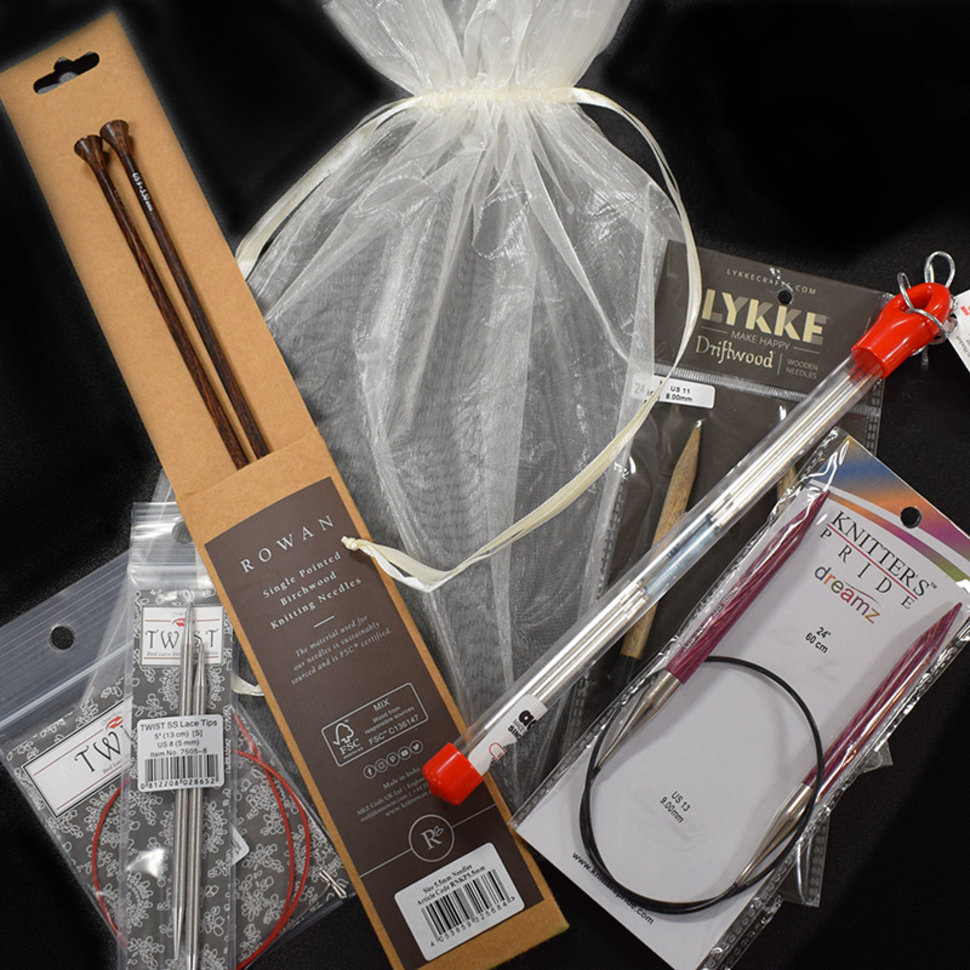 Today we're talking about needles and hooks. Instead of just giving an overview of the different features, materials and such I thought it would far more interesting to take a closer look into the companies who manufacture the tools of our trade.
The HOT needles & hooks to have these days are from LYKKE. LYKKE is the Norwegian word for happiness. Despite the Norwegian name, there is no Scandinavian connection to these products. They are handcrafted and assembled by skilled Nepalese craftspeople, supporting growth and development of the local economy in Nepal.

Knitter's Pride needles are very similar to LYKKE. If you've invested in a Knitter's Pride set, the cables and tips are interchangeable with LYKKE so that's a big plus. Knitter's Pride is a family owned enterprise based out of Jaipur, India that prides themselves on fair practice ethics. The Dreamz needles and hooks are constructed from laminated birch, which is the norm with many needles and hooks today, including LYKKE. Birch is more durable than bamboo and the lamination process allows for the manufacture of fun colors.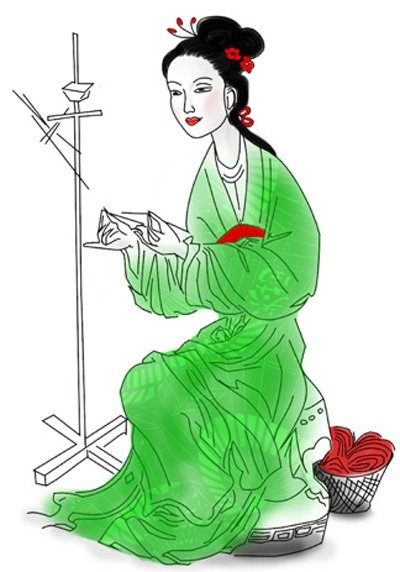 I loved learning the background story behind ChiaoGoo needles. ChiaoGoo is a brand under the Westing-Bridge company umbrella, and is a family owned business started by 4 brothers. ChiaoGoo needles and hooks are designed and distributed in Troy, Michigan however they are manufactured in Hangzhou, China.
I know, the first impression when you hear "made in China" is basically cheap junk, but with ChiaoGoo this is NOT the case!
The 4 brothers behind ChiaoGoo were born and grew up in China. Their grandfather was a bamboo craftsman, and their father followed in his footsteps building a workshop producing bamboo goods.
Their mother was an avid knitter, and naturally her husband started making needles for her which led to producing knitting needles for sale in his workshop. Mom was the needle tester and inspiration for the ChiaoGoo name, which means highly skillful & crafty lady in Chinese.
In the 1990's they decided to expand production, so the youngest brother established a US presence in Michigan so that their knit and crochet tools could be marketed and distributed outside of China.
We're so glad they share their incredible products with the rest of the world. While they started with beautiful bamboo tools, their surgical steel knitting needles are the top-of-the-line with incredible points, pliable cables, and so much more. ChaioGoo now dominates the metal needle category and it is so easy to see why.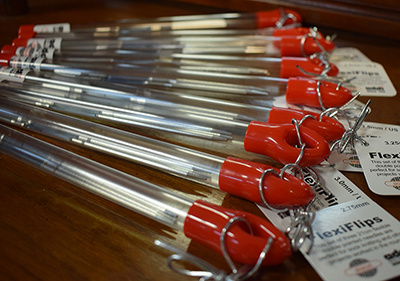 Addi needles have been made in Germany by hand for 191 years. It is a family company, with the 6th generation currently at the helm. I remember when Addi was the new hot needle, and there was nothing to compare. Their smooth joins and pliable cords were revolutionary at the time, and the nickel plated brass needles were such a welcome relief to the standard aluminum needles of the time.
Addi is still revolutionary, and we flip over their FlexiFlips!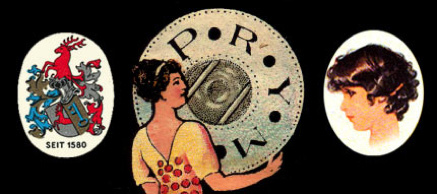 The Prym brand name seems new to the market, but this family owned company has roots going back over 500 years! Prym is one of the oldest industrial German firms who began working as goldsmiths, then moved into brass making, and by the early 1900's was the dominant manufacturer of press snaps. They took a hit after WW2, but were able to rebuild and extended into sewing and craft products. Today they manufacture 15 MILLION snaps every day. That's a lot of snaps!
Many of the Prym needles, hooks and accessories were previously branded as Inox - a brand many of you will be familiar with.
We are loving the Prym ergonomic crochet hooks. They are flexible, color coded, and feel really nice in your hand!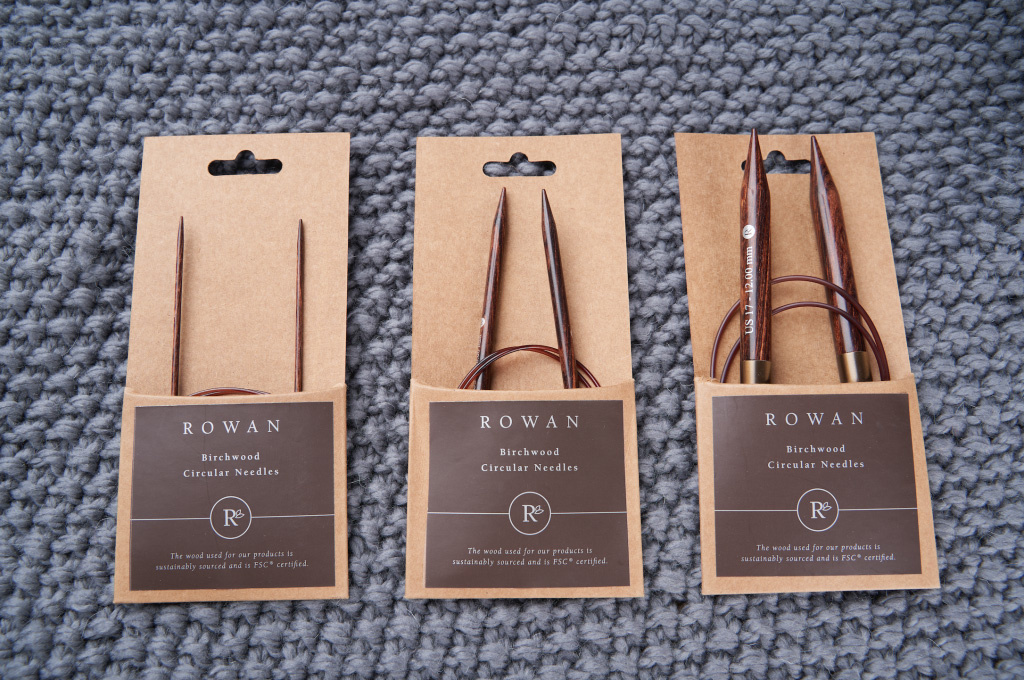 I don't have a great story behind the making of Rowan needles, in that Rowan isn't exactly a needle manufacturer. But they did have needles made just for them and they are beautiful. These laminated birch needles are made with FSC-certified wood (forest steward council) sourced from sustainable forests. These needles are really nice to work with. The circulars are only available in 32" lengths, but hopefully they will expand on this soon. Keep in mind that Rowan is a BRITISH company, and the British LOVE their straight needles so we're lucky to get circulars from them at all!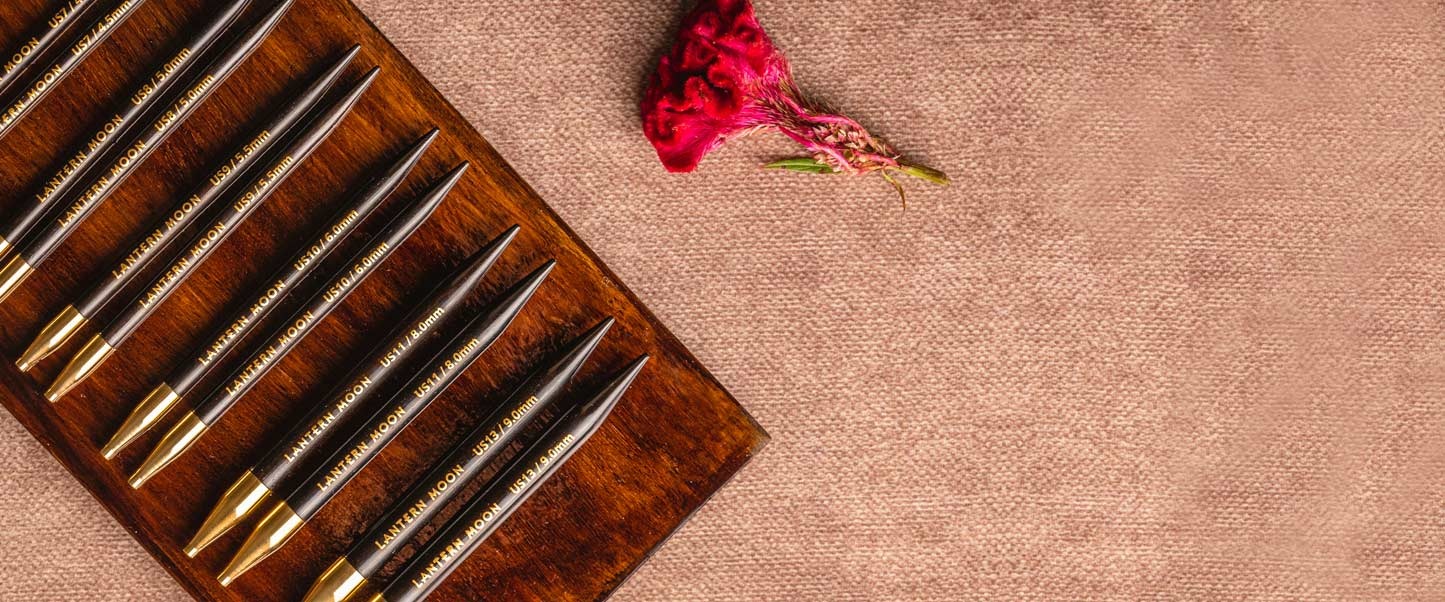 If you love exotic woods, you'll be thrilled to know that Lantern Moon needles are back! I remember when these were new and we carried a HUGE stock of these beautiful needles.
The company went out of business several years ago however Knitter's Pride has acquired the brand. We are anxiously awaiting the arrival of these incredible ebony needles, but as with everything else all we can do is pace back and forth and try to be patient. We're hoping to have them in hand early in the new year.
If you haven't figured this out already, you just can't have too many needles and hooks. And the only way to know which brand or material works best for you is to give them a whirl!