Login
Log in if you have an account
Dont have an account? Register
What Can You Make with Kidsilk Haze?
01 Nov 2022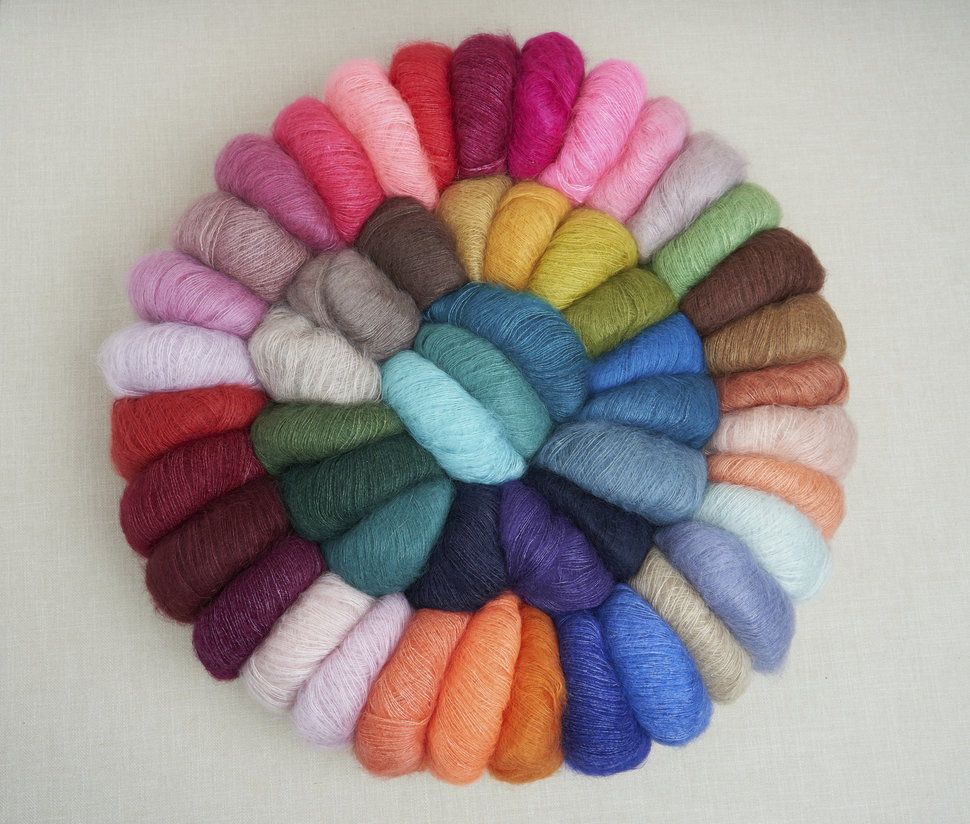 Today we're going to talk about one of our favorite yarns in stock: Rowan Kidsilk Haze! This yarn is lovely and soft, super versatile and a customer favorite. We'll talk a little about the yarn and give you a little crafting inspiration by featuring our top 10 pattern suggestions. 
Why is Rowan Kidsilk Haze so special?
Did you know we now have 81 amazing colors of Kidsilk Haze in stock? A perennial best seller, Kidsilk Haze combines the soft halo of super kid mohair with the vibrant shine of silk - we think it's the best mohair/silk combination on the market! Rowan starts with the finest mohair on the market and then combines it in a 70/30 blend with silk. The silk adds strength and shine. The mohair takes dye brilliantly, which gives Rowan the ability to create both deep, saturated tones, as well as soft pastels and neutrals.
What size needles do I use?
Kidsilk Haze can be knit with a variety of needle sizes to create different textures. Knit it on smaller needles for a denser fabric that's still light and lofty. Use larger needles to create airier garments, or lace with a halo. Or hold Kidsilk Haze alongside another yarn (on larger needles) to create a slightly heavier weight garment with a softer look. Mix and match colors to create fades or gradients; really the options with Kidsilk Haze are endless!
What should I make?
We've collected 10 of our favorite patterns to get you started with Kidsilk Haze. We think there's a little something for everyone on our list. In no particular order:
A wrap-over cardigan is a timeless classic and this design by Lisa Richardson is no exception! This lightweight piece is knitted using Kidsilk Haze on size US8 (5mm) needles in simple stockinette with garter stitch borders. The knitting is easy, and the effect is simply elegant.




 

An exquisite knit by Lisa Richardson, Daydream is pure elegance. This long-length waterfall cardigan combines Kidsilk Haze and Fine Lace which are worked together in simple stockinette stripes. The juxtaposition of horizontal and vertical lines are formed by sewing the garment sections together, and finished off with a simple rib. Make a statement with this gorgeous piece.

This fun cardigan by Erika Knight packs a colorful punch! Kidsilk Haze is held double throughout, and a fitted finish is achieved with an all-over rib, set in sleeves and an integrated button band. The contrasting colors ensure this v-neck cardigan will give you a fresh pop of color on gray days!

Designed by Annika Andrea Wolke, Flow is a delicate triangular shawl, featuring wide stripes, worked in five shades of Kidsilk Haze. The shawl is worked entirely in stockinette using a slip stitch technique to increase the size of the shawl from the center as you knit. Choose any 5 colors that suit your palette to make your own unique flow!

Designed by Georgia Farrell, this statement cardigan features long raglan sleeves and an open front. This maxi length cardigan is beautifully lightweight to wear as it is knitted entirely in Kidsilk Haze and with just a few small amounts of Felted Tweed for embroidery. If the coat looks too challenging, the Block Scarf gives you the same look and feel in a smaller size!

A classic v-neck sweater, designed by Georgia Farrell, is given a fresh twist by incorporating horizontal and diagonal textured stripes across the body. This two-color sweater is worked using Kidsilk Haze and Felted Tweed held together throughout to create a beautifully soft and hazy fabric. The sweater features long sleeves, ribs at the neck, cuffs and hem, and has a cropped hemline.

 

Designed by Kim Hargreaves, Randall is a versatile cropped sweater worked in a slip-stitch rib. The sweater features a stand-up collar and gorgeous sleeves that are purposefully worked too long in order to be worn rolled back at the wrist. This design is knitted using one strand each of Kid Classic and Kidsilk Haze held together throughout.

 

Triangular Shawl from Magazine 70

This cozy shawl features sheer bands across the width that are achieved by working with Kidsilk Haze held double on the garter stitch bands but only using a single strand on the stockinette bands in between. Designed by Georgia Farrell, the triangular shawl also features three contrasting tassels - one at each corner. Playing with color combinations is half the fun in starting this project!

Aperol from Essential Summer Brights

Designed by Quail Studio, this triangular scarf is worked with 1 strand each of Summerlite DK and Kidsilk Haze held together throughout. Knitted in a textured slip stitch pattern, with a garter stitch border, this is a simple to make and easy-to-wear addition to your wardrobe. Add a pop of color to your wardrobe with Aperol!

Juniper from MODE Collection Four

This graduated stripe cardigan has a loose-fitting silhouette that is the perfect addition to your casualwear wardrobe. Designed by Lisa Richardson, the cardigan is knitted in Summerlite 4 ply and Kidsilk Haze held together throughout and also features a tie waist, ribbed edging and deep rolled cuffs. If you want the same look, but not quite as much knitting, try the Ombre Scarf from the same collection.
We hope you've enjoyed this look at Kidsilk Haze! If you're looking for more pattern inspiration, browse our selection of Rowan patterns and books, check out our Pinterest boards, or head on over to Ravelry to find hundreds of patterns that use Kidsilk Haze.